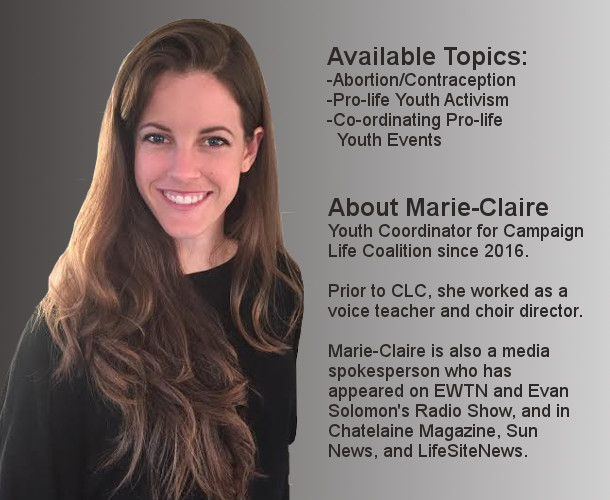 Check Availability
- Grade 9 Student, Assumption College, Brantford
"The up-to-date information you presented was much appreciated and very effective in presenting the truth about what abortion really is and what it really does to individuals and society as a whole."
-Ms. Medeirose, Grade 10 Religion
"I am a Religious Education teacher and had the honour of attending a pro-life presentation by Marie-Claire Bissonnette. She presented to my students with great knowledge and a very positive and loving attitude about the subject. Ms. Bissonnette has a great gift to explain to students on their level that life is sacred, regardless of age. My students were able to keep their focus throughout the presentation and many left with a deep understanding about why abortion breaks the 5th Commandment. I would like to thank Marie-Claire for putting together a very informative and thought engaging presentation!"
- Ms. Martello, Grade 10 Religion
"…you have a knack for speaking to students and the truth is usually uncomfortable but necessary…You shed light on a subject that is being ignored by some people today because sometimes, in this culture of immediate gratification and individualism, it's easier to defend self-serving arguments. Ultimately, the unborn depend on all people to be their voice. I really believe that it's only through education (through courageous people like yourself) that people (especially young people such as our students) will be able to truly understand the meaning and consequences of abortion and only after that are we in a position to choose (to choose rationally and ethically)… As I mentioned to you, I would consider it a privilege to bring my students to listen to your presentation any time you can come in to A.C.S."
-Ms. Medeirose, Grade 10 Religion